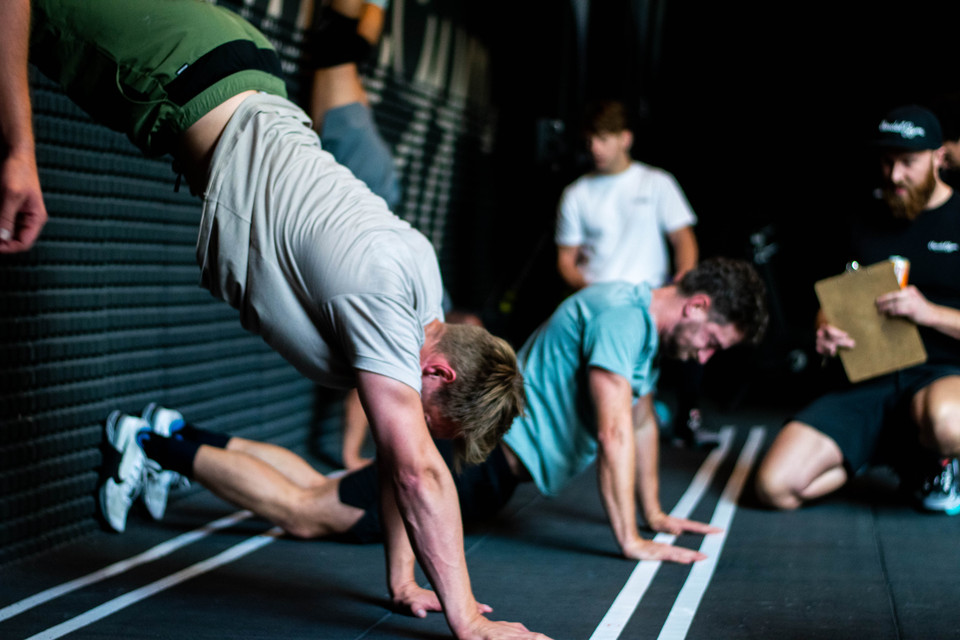 Vondelgym Games 2023 Amsterdam
The biggest community event of the year is finally back!
The Vondelgym Games, our yearly CrossFit buddy competition, is only open to members of our gym. If you're training in Amsterdam, the following info is for you! For Rotterdam, please refer to a separate posting.
General info
The competition will have a male+male and a female+female division. If you identify as non binary and would like to participate, feel free to send us a message and we will accommodate you.
To join in on the action, you and your teammate are required to complete the registration form.
Qualification
The Qualifier workouts will be hosted in our Friday and Saturday CrossFit classes at all locations (west/east/south) on the 8th & 9th as well as 15th & 16th of September.
Additionally, a final opportunity to complete a missed qualifier will be provided on September 23rd and 24th, outside of the regular class hours. Further details about the exact timing and location for the makeup session will be announced soon!
If you want to compete, you need to sign up for a class on BOTH of these weekends together with your buddy, there will be 2 separate workouts! Scores will only be taken into account if you performed them in class, NOT outside of class.

Finals
Upon the conclusion of the Qualifiers, all athletes' performances will be assessed and ranked.
Teams will be categorised into different skill levels for the final event based on their rankings. The workouts for the finals will be curated according to the participants' skill levels, making this event inclusive for all!
However, spots at the finals are limited. We're aiming to increase the capacity every year. This year the top 20 teams of the female division as well as the top 40 teams of the male division will be eligible to compete in the final event, so you have to give it your all in the Qualifiers!
Places 1-10 in the female division compete on Sunday October 8th.
Places 1-20 in the male division compete on Sunday Sunday October 8th.
Places 11-20 in the female division compete on Saturday October 7th.
Places 21-40 in the male division compete on Saturday October 7th.
Every athlete competing in the finals will be asked to pay 30€ for participating in the event (not for
Qualifiers).
More details about the Qualifier workouts will follow soon on instagram.
If you have any other questions regarding the event please reach out to crossfit@vondelgym.nl or Niklas. See you on the competition floor!

Sign up here